Get ready for an exhilarating twist in your gaming experience! Gods Unchained introduces the new Rotating Game Modes that will reshape the arena and breathe new life into our beloved game. As they promised in their Roadmap, these game modes will rotate in and out, offering you thrilling variations and keeping the meta fresh.
New Game Mode: Chaos Constructed
Prepare for chaos as Gods Unchained kicks off the rotating game modes with Chaos Constructed. In this mode, domain restrictions hold no power, and you have the freedom to build your deck with cards from all domains. This is your chance to push your creativity to the limits and witness a meta transformation like never before. Brace yourself for unprecedented strategies and unexplored combinations that will revolutionize your gameplay.
Feedback-Driven Rotations
The developers of Gods Unchained want your voice to shape the game. To achieve this, game modes will be rotated more frequently in the beginning, giving you the opportunity to try out different modes and share your feedback. By understanding which modes you enjoy the most, they'll be able to cater to your preferences and rotate in the popular choices more often.
How Does Chaos Constructed Work?
Let's break it down, Mortals. In the regular Gods Unchained game modes like Ranked or Casual, you build your deck based on the domain of your chosen God. However, Chaos Constructed flips the script. You now have the liberty to select any card from any domain and incorporate it into your deck. The only thing that remains unchanged is choosing your God. With all domain restrictions lifted, your entire Gods Unchained card collection comes into play, unlocking a world of uncharted strategies.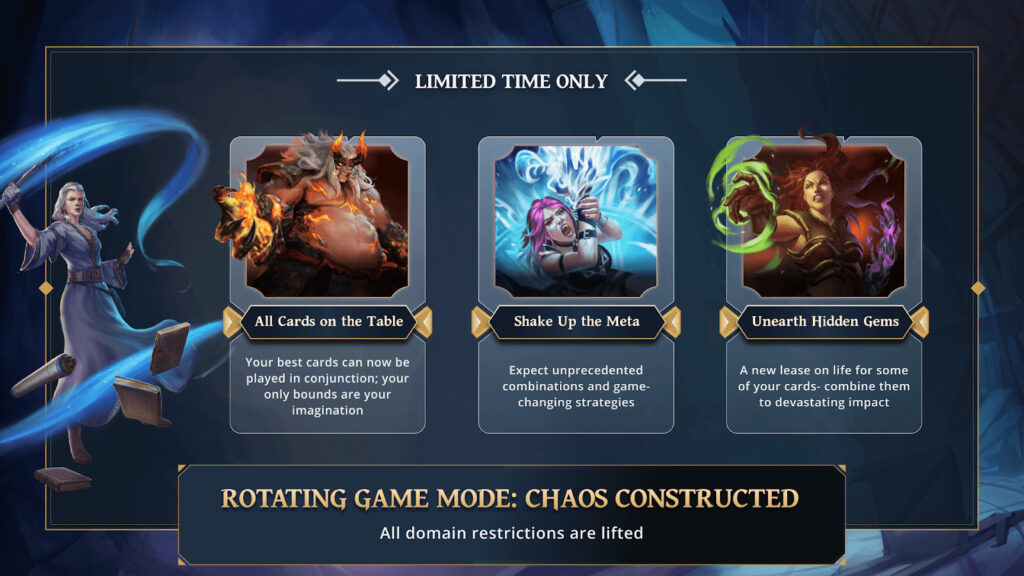 New Deckbuilder
Significant improvements have been made to the Deckbuilder to enhance your deckbuilding experience. It's now more intuitive, whether you're a new player or a seasoned veteran. The revamped Deckbuilder provides a clearer overview of the deck you're building and adapts seamlessly to support the new game modes. It automatically shows you which cards you can or can't use based on the selected mode, empowering you with greater control. With enhanced filtering options, you can fine-tune your deck to perfection.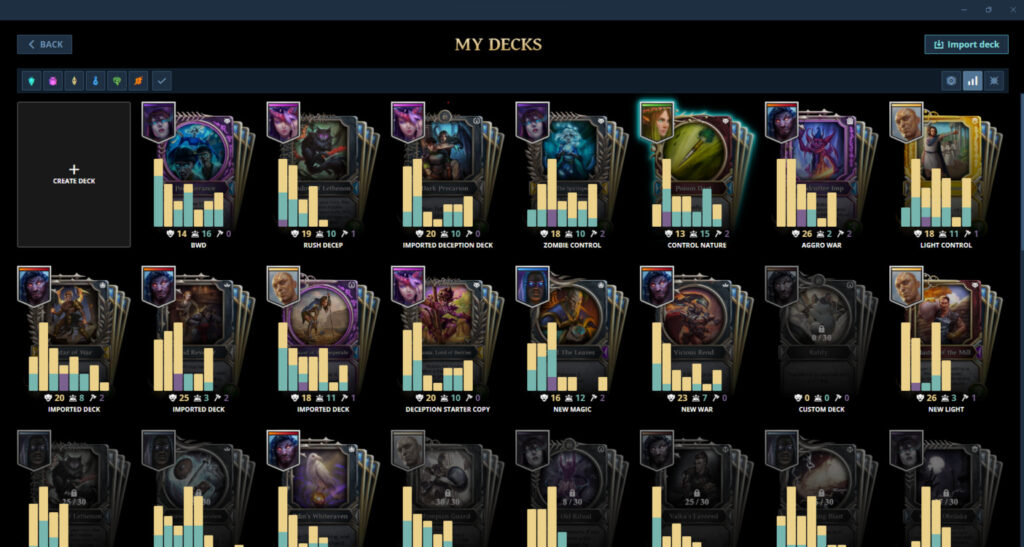 Get Ready to Embrace the Chaos
The time has come to unleash chaos and explore the endless possibilities of Chaos Constructed. With the freedom to choose from all domains and experiment with powerful card combinations, you'll embark on a journey of strategic discovery like never before. Don't forget to share your feedback as Immutable continues to shape the game according to your preferences!